Torrington Dentures
Dentures are a great way to improve your smile instantly. Full tooth loss can be caused by a number of things, from severe injury and decay, to removal by a professional for health reasons.
Image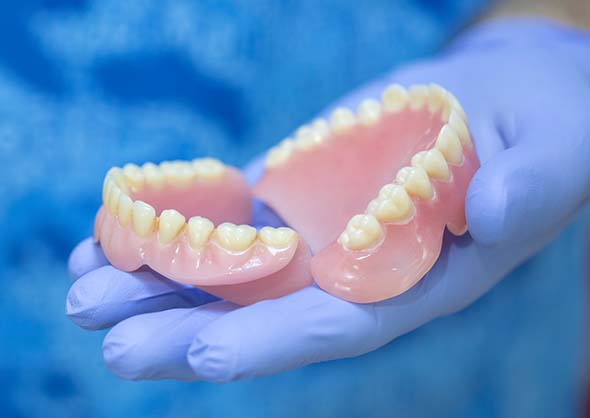 A denture is an appliance placed into the mouth to hold false teeth in place. These teeth look and function just like real teeth. Their realistic qualities allow you to live as you normally would. Replacing toothless areas results in greatly increased chewing ability, visual appeal, and the ability to pronounce words and sounds.
Video: Full denture
Image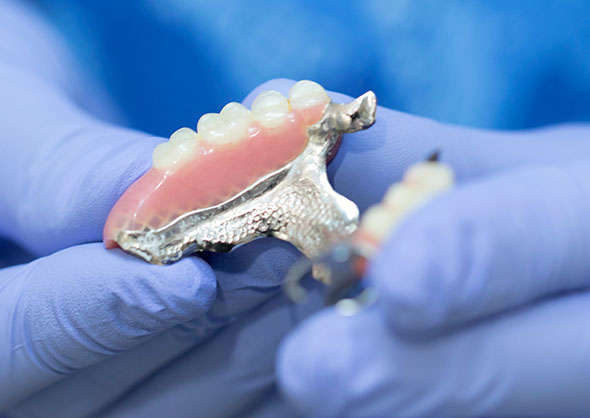 Denture technology has improved over time to make them much more comfortable and easy to use, as well as more aesthetically subtle. One such technology is placing implants under your dentures for stability.
Video: Removable partial denture
Frequently Asked Questions
My dentures are slipping or broken. What can I do?
Dentures should fit comfortably and securely while you wear them. If yours are slipping, or if they've been damaged, bring them to us to have them repaired or adjusted.
How do I clean my dentures?
You should remove your dentures and rinse them in water after every meal. This removes food particles and ensures your dentures stay clean. This is also a good time to rinse your mouth and brush your teeth. Clean your dentures with denture solution and a soft denture brush every night and soak them in denture solution overnight to keep them moist. You should also bring your dentures to your dentist regularly for cleaning and maintenance. Your dentist will let you know the appropriate maintenance schedule for you.
Will dentures change the way I talk or eat?
Dentures may change your speech slightly when you first wear them, so you might need to practice speaking while you wear them. Reading aloud to yourself is a great way to practice.
Dentures may affect your ability to chew food, especially foods that are sticky or hard. When you receive your dentures, your dentist or denturist will teach you how to chew properly with dentures and which foods to avoid.
Related Videos